Cycling Holiday Kit List
Make sure you bring all the essentials for your cycling holidays with our cycling kit list.
Cycling Holiday Kit List
https://www.contourscycle.co.uk/cycling-holiday-kit-list
What to bring on your cycling holiday
What you stow in your overnight bag is entirely up to you, but what should you keep close to hand on your cycling holiday or mountain biking adventure?
It's important to remember that the British weather can be extremely variable, so you must ensure you are properly prepared for every conceivable type of weather. Listed below are all the important things you should carry. A copy of this checklist is included in your Holiday Pack.
Cycling holiday kit list
Items to keep accessible
Holiday Pack
GPS and spare batteries
Waterproof day pack liner
Compass
Whistle and torch
Water bottle or hydration pack
Mobile phone
First aid kit and essential medication
Money in cash as well as card
Essential clothing
Waterproof jacket
Padded cycle shorts
Gloves
Sweat-wicking base layer
Warm mid layer
Warm hat
Helmet
Sunglasses
Optional extras
Phone card
Sandwich box
Sunscreen
Camera
Insect repellent
Bike lock
Additional clothing
Spare dry top for layering
Cycling shoes
Be sure to top up your water supplies at every opportunity, and keep snacks on hand to keep your energy levels high.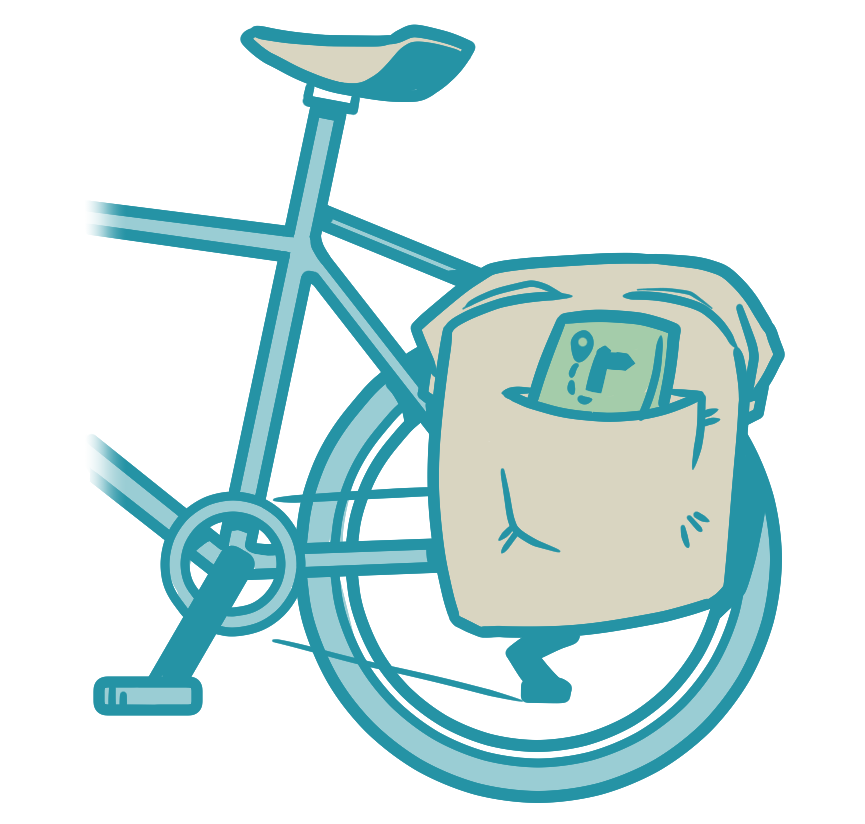 Choosing a bicycle
Contours Holidays do not provide bicycles for any of our cycling tours, so you'll need to bring along your own. Your bike should be in good condition, and you should be familiar with how to service it along the way. Otherwise, we have a few pointers for bringing along the right type of bicycle for your holiday.
Road cycling tours
The majority of our road cycling routes can be undertaken on whatever bike you'd like, whether it's the folding bicycle you originally bought to take on the train or the carbon race bike you've custom-built around a beautiful frame.
For our harder itineraries with long-mileage days, we recommend a full-size bicycle that's comfortable enough for multiple consecutive hours of riding.
We advise against sticky off-road tyres on all of our road-focused cycling holidays.
Mountain bike holidays
A dedicated mountain bike is a necessity for our off-road cycling holidays. All our tours are cross-country styled, without major drops to contend with, so it's up to you whether you want to invest in full suspension or a hardtail setup — you're unlikely to test the limits of your suspension, unless of course you detour to Dyfi Bike Park near the end of the Trans Cambrian Way!
Carrying luggage
If you've opted to carry your own luggage, make sure your bicycle can support a set of panniers or a frame bag. These bike-mounted bags are still a great choice if Contours are carrying the bulk of your luggage. Even a light day pack will put unnecessary weight on your shoulders and might throw you off balance as you ride.
Your tool kit
On a long-distance cycling ride, you should expect your bicycle to need some minor repair work. Punctures are the most common problem you'll face. We highly recommend practising changing an inner tube prior to your holiday.
Daily maintenance is also important for your safety and enjoyment. Take the time to give your bike a full service, plus a post-service test ride.

A basic repair kit is a necessity for your holiday, and you should add to it based on the length and remoteness of your route.
Essentials
For the most likely and most fixable issues you might encounter on your holiday.
Tyre levers
Inner tube patching kit
Spare inner tubes
Pump, matching the valve type of your inner tube*
Chain breaker tool
Spare chain
Chain lube
Cable repair kit
Zip ties
Allen keys and torx keys
Phillips head screwdriver
Adjustable spanner
Extras
For longer tours and more remote routes where a bike shop isn't readily accessible.
Tyre boot
Brake pads
Spare derailleur
For tubeless tyres, tubeless patch kit and spare valve
Spoke key
Spare spokes
Pedal spanner
Crank extractor
Cassette lockring tool
Your valves: Presta or Schrader?
There are two types of valve commonly seen on bicycle inner tubes: the stubbier Schrader valve you'll also see on the tyres of your car, or the longer Presta valve.
Which is best is really down to personal preference, but make sure you know which type you're using. Some bicycle pumps work only for one or the other, and garage forecourt air pumps require an adapter to work with Presta valves.
Presta and Schrader valves are not easily interchangeable without modifying your rims.